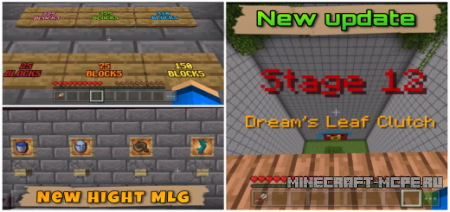 It's time to learn some cool parkour. The map will teach you how to jump from a height without harm to health and deftly overcome obstacles in MCPE. It contains two dozen levels where dexterity is trained.
You can hone your skills alone or invite your friends and play together. The lobby has a number of settings in a nice design, without books and banners with text.
Author: UPlayz.
Notes
23 polygons for studying PRO chips.
4 degrees of height to increase the difficulty.
Automatic restart after error.
Multiplayer mode is supported.
Screenshots
Video review
Download Updated MLG Practice Map
.mcworld
How to install a map?