Modification Mutant Creatures lets you look at the world Minecraft PE from a completely different angle. New mutants with elaborate models based on the original mobs will be added to the game. You are going to meet a dozen of changed monsters who have acquired new abilities and completely changed their behavior. The mod significantly complicates the research process, because from now on there is a high probability of meeting one of the following enemies:
Zombie

– movement speed and strength have increased significantly, besides, they have learned to summon minions to their side, which can cause a lot of problems.

Creeper

– with an increased amount of health, it quickly approaches the victim, thanks to the presence of four legs. Explodes before dying, dealing massive damage.
Wither Skeleton – Received a large sword and doubled damage – this is the strongest skeleton in the game.

Pig zombie

live in the Lower World, they know how to summon helpers, and after death they leave some jewelry.
Drowned Man – gained double speed and a trident that shoots from a distance.
The only neutral mob will be

wolf

… Once tamed, you can ride it on its back, just like on a horse.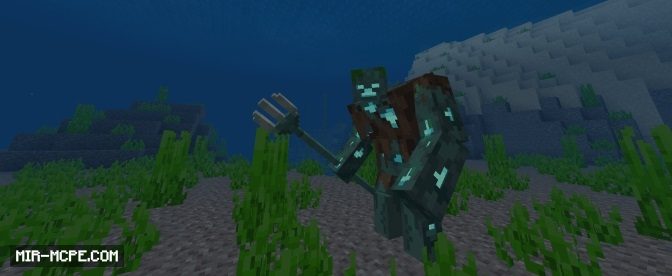 If you are tired of the monotony and want to complicate your survival, then we recommend downloading the mod on mutants – Mutant Creatures from our portal Mir-MCPE. You will need maximum caution and utmost attention to the environment, because if you go on a journey with weak weapons and poor equipment, then any of the updated monsters will pose a significant danger.