Have you ever thought about the fact that in real life you can combine anything. Everything is limited solely by the imagination of people. But the problem is that such items are unlikely to be of any use. But in MCPE everything will be different: mod Merging Items will allow players combine almost incompatible things and make them extremely effective… There are only 3 items available so far.
Raw beef with a diamond pick
When eating such a pickaxe, the player will receive a powerful acceleration, allowing you to extract even ancient debris in an instant. Crafting requires, as you might have guessed, a diamond pick and raw beef. An extremely useful item for mining.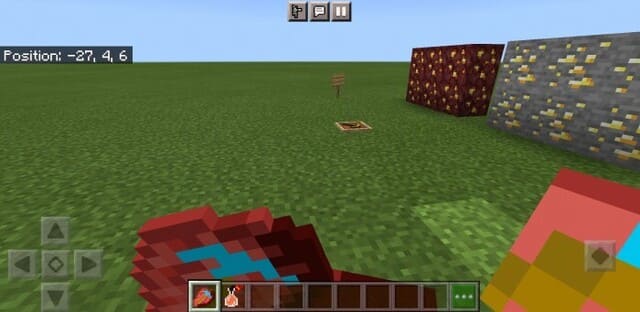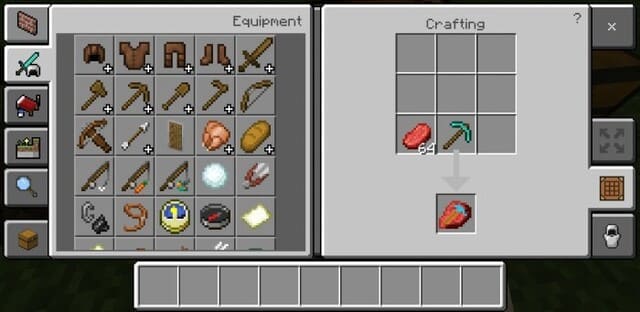 Explosive bottle
Use this to defend your base: you can make as many bottles as you like and throw them at enemies. The item has no cooldown, so the monsters face serious problems. Damage: 2 hearts from each explosion.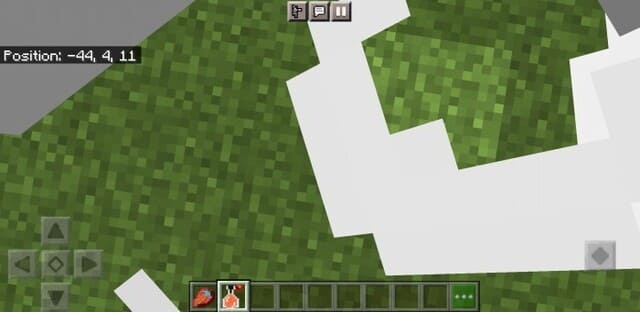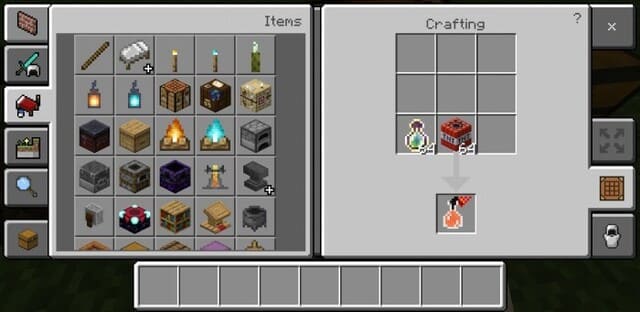 Update 1.0.1
Sharp Shield
An extremely powerful item that does 50 damage. You can kill a destroyer in just one hit. A shield and an iron sword are used for crafting.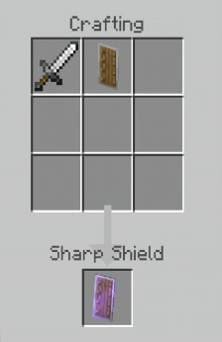 Fishing spear
A useful item as the player will get raw cod from using it. In addition, the player will receive night vision and sea power for convenient fishing. Deals 10 points of damage. Crafted from a fishing rod and an iron sword.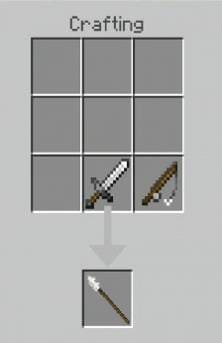 Spy Helmet
You can eat this item. In this case, the player will receive a slowdown of 5, but will be able to see much further. Crafted from an iron helmet and pumpkin.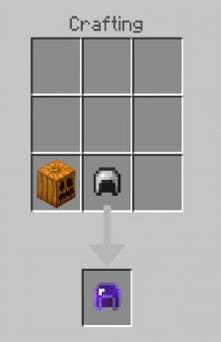 Boom with TNT
Use this item with at least iron armor, as it can kill you if it explodes.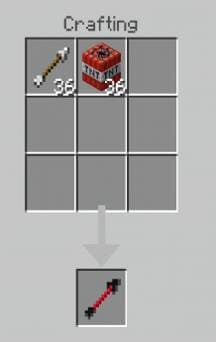 Update 1.0.2
Arrow of blindness
Places second level blindness on any mob it touches. Crafting requires an ink bag and an arrow. If you apply an arrow on a dragon, then there will be something unusual.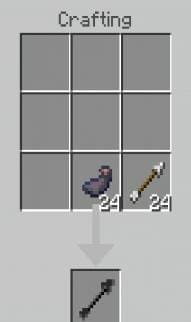 Mountain helmet
Headgear with night vision effect 2. Wearing a helmet causes the grass to burn and turn into a trail block. Crafting requires a torch and a chainmail helmet.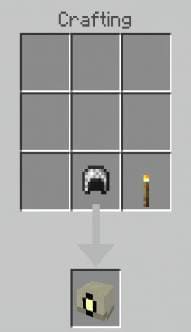 Iron trap
An extremely unbalanced slab that will kill anything if stepped on or broken. Crafting requires an iron door and iron bars.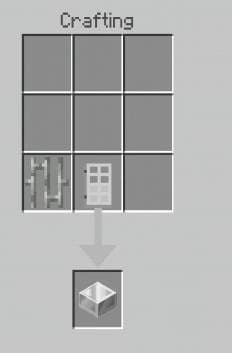 Damn armor
Fills a strip of armor completely and even moves it slightly. Extremely unusual design. For crafting, you need two sets of armor at once: gold and diamond.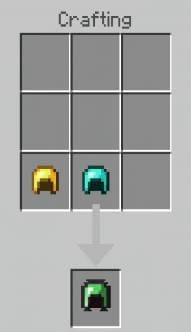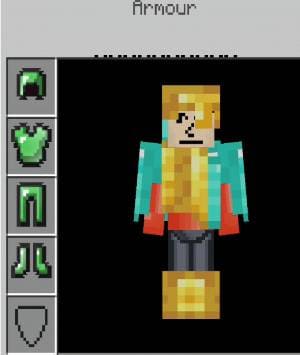 Redstone TNT
This item cannot be crafted as it is too strong. This is a new type of bomb that explodes the moment it is set on fire. Deals 5 to 13 damage on explosion.
Update 1.0.3
Night pickaxe
With a 5% chance, it applies night vision and with a 0.5% chance – acceleration (0.01% for both effects). You will need an iron pickaxe and a torch.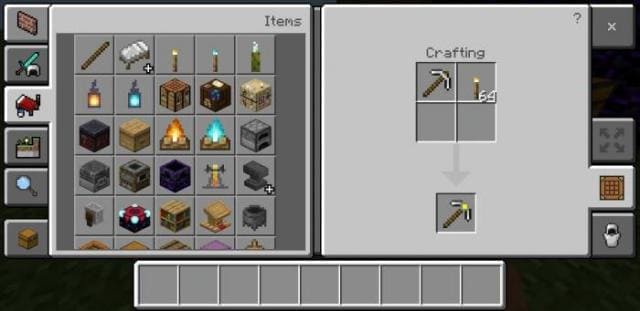 Squid launcher
A real 3D object with which you can shoot squid. Be careful – if the squid are far from the water, they will die. To craft an item, you need a crossbow and an ink sac.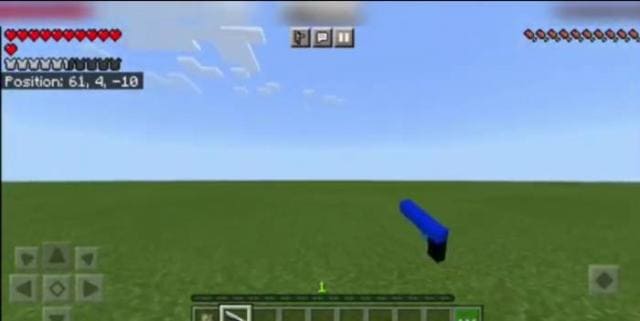 Glowstone Arrow
Gives level 2 night vision to everything it touches. A very beautiful arrow made from glowing dust and an arrow.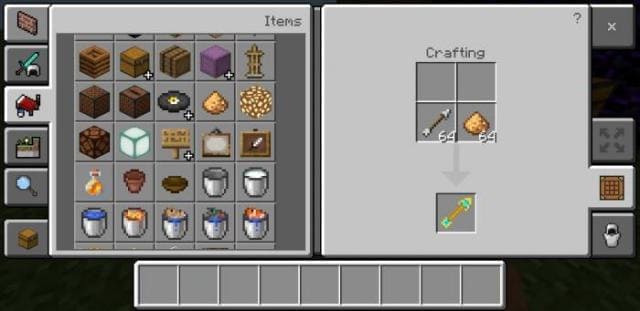 Downworld Table
This is where all the coolest DLC items are created. True, it is necessary to kill the Wither to get such a table.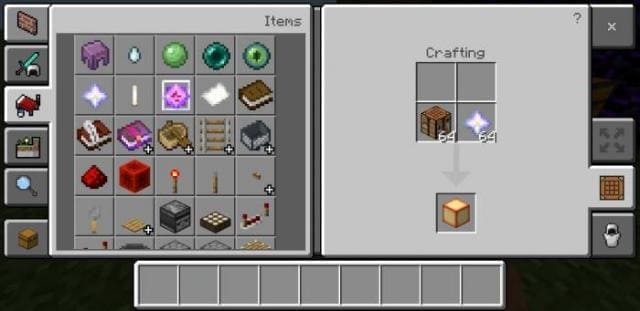 The Pearl of the Downworld
Up to 32 units can be stacked. 10 times faster than a regular pearl. Crafted from Nether Star and Ender Pearls in the appropriate crafting table.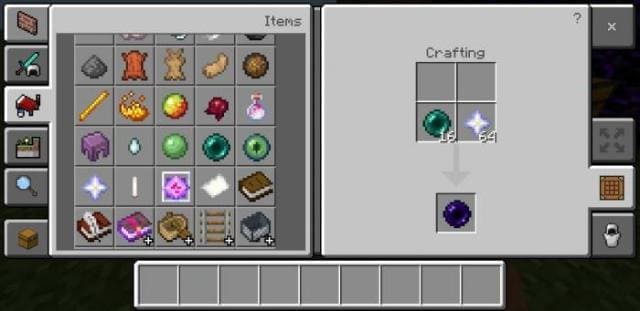 Underworld Breastplate
Made of Nether Star and Netherite Breastplate. Fills a strip of armor completely.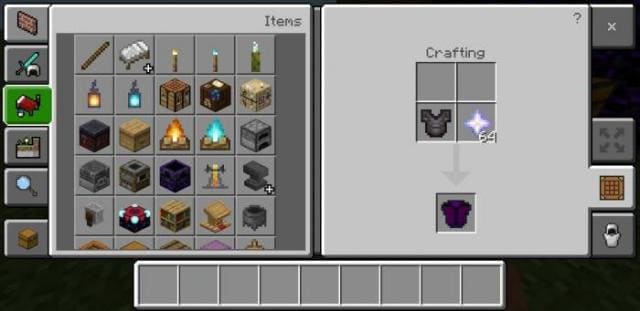 Downworld Sword
Deals as much as 500 points of damage, which makes the sword extremely unbalanced.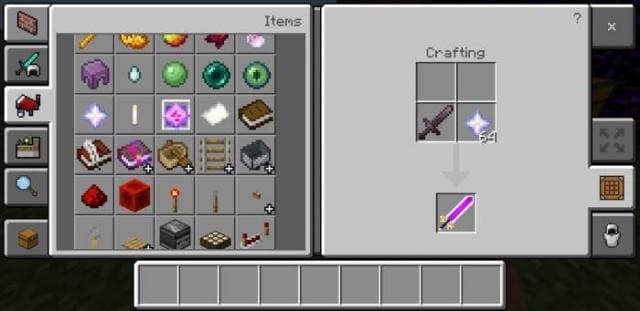 Update 1.0.4
Biomes
The author has included a pooled biome containing basalt deltas, ice spikes and more in one. The main liquid in the location will be lava. Try to find this unusual area.
Items
Added a new type of shell and 4 ingots. Ingots are crafted from an empty ingot with the addition of Coal, Emerald or Redstone. Air is required to create an empty ingot. A vampirise has been added as a projectile – it deals 9 points of damage. Crafting requires a leash and instant damage potion
Blocks
Added diamond ladder, which can be crafted from ladder and diamond. When destroyed, diamonds are dropped, and you can destroy the block with your hands.
Food
The Reverse Apple is a new food that grants Level Six Hunger. Craftable from apple and mud in a workbench.
Update 1.0.5
Creeper totem
It looks like a creeper and is eaten. Provides fire resistance, miner's fatigue and regeneration. Gunpowder and a totem are used to make it.
Dark blade
Imposes blindness and strength. Durability: 500 units and 45 units of attack damage. Craft from netherite sword and redstone.
Flaming bow
It has unique abilities: upon hit, it creates 3 pillars of flame, which also deal 12 points of damage. It can be crafted in a netherite table from a bow and a fire charge.
Carved melon
After installation, it may seem that there is no chopped part, but take a good look. Great decoration for Halloween. To create it, you need to put a melon and scissors on a workbench.
Really rotten flesh
This flesh is so rotten that it imposes deadly poison, nausea, hunger and weakness when eaten. Use it to mock your friends. Crafted from Rotten Flesh and Poisonous Potatoes.
Torch of infinity
Superimposes night vision when held down. Can burn wood and transform from boards. It is created with a torch and a torch of the soul.
Feather pickaxe
It may seem useless at first, but the item imposes an increase in jump and slow fall. In addition, the player will receive acceleration 1. Craft from a wooden pickaxe and a feather.
TNT Pick
A destructive item that destroys a huge number of blocks at once. Crafted from Night Pickaxe and TNT Block.
Sunscreen
Fire Resistance and Underwater Breathing is an extremely beneficial cream. Crafted from a bottle of water and fire powder.
Netherite Fishing Pole
Too cool little thing that is only available in the creative inventory. When used, it gives out various items from elite to netherite scrap.
Gold ore apple
Enchanted golden apple with 0.01 second movement speed. The reason for this is because gold is combined with wood for the worst result! To create, an enchanted golden apple and a gold ingot are used.
Netherite TNT
Textures of an ordinary netherite block hidden in a powerful bomb. Cannot be obtained in Survival Mode.
Painted fish
An extremely nutritious fish that can completely restore a character's hunger bar. Raw cod and red dye are used to make it.
Golden Gate
The opposite of an iron gate. The player will be able to receive gold bars. For crafting, iron gates and gold bars are used.
Preview
Changes in the new version
Added many new items
Fixed bugs