The collection contains all dragon mods, allowing you to grow your own powerful creature and tame it. Become the owner of crushing power and conquer the air in Minecraft, thanks to the new majestic winged monsters.
Dragon Mount
The add-on adds seven eggs from which you can grow a dragon. When creating a new item, the base is taken in the form of 4 obsidians, 4 golden apples and a chicken egg. One of the following items is added to them, defining the type of mob:
Gunpowder is fiery.
The bucket is oceanic.
The feather is cloudy.
Obsidian is the Ender of the Dragon.
Saplings – jungle.
Diamonds are diamond.
Mossy cobblestone – Amphisbene.

In order for them to grow and increase in size, it is necessary to feed certain substances. As soon as he grows up, the opportunity to learn how to fly on this winged air vehicle opens up.

Dragon Mount Beta
The modification allows you to acquire a dragon. Subsequently will protect you from any aggressive mobs. In order to get such a formidable guard, you will need to buy a certain type of ingot from a special resident. This is followed by 4 stages of maturation, the first begins with an egg, and the last opens the possibility of flight.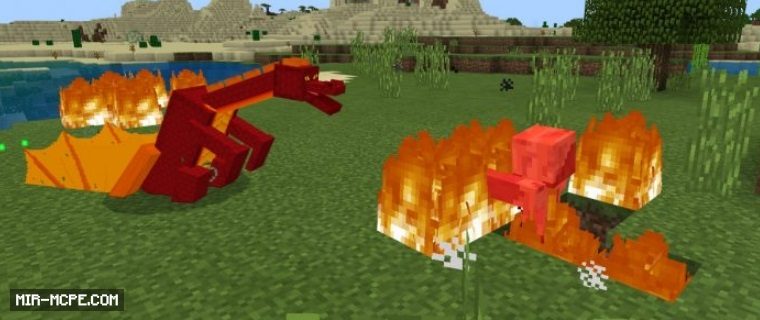 How To Train Your Dragon – How To Train Your Dragon
The modification will add several of the most popular fairy-tale creatures from the cartoon of the same name:
Night fury

.
Evil Serpentine.
Day Fury.

They are tamed using raw fish. The chances of a positive result are extremely low at only one percent. After a successful outcome, you can not only fly on it, but also allow you to sleep in your own bed and protect your home from enemies.

You can get a tame dragon right now, it's worth download dragon mods for Minecraft PE and determine which type of creatures you prefer. The supplement will give a lot of positive emotions. Thanks for attention!