Update Minecraft 1.17 for Android – one of the largest in recent years. It got the name "Caves and Rocks" and brought a lot of interesting things to the gameplay. In it, the developers added several biomes, new blocks, mobs and items at once. You will learn more about all the innovations on this page.
What's new in Minecraft PE 1.17
Team Mojang did a great job of implementing the planned for the event Minecon 2020 innovations. Despite the fact that initially the plans were ambitious and difficult to implement, they still managed to complete проект «Caves & Cliffs» on time and present your brainchild to the public!
Cave biomes
Lush caves. They are located deep underground and are filled with a lot of new plants. To get into the biome, you need to dig under the azalea tree. Here you will find glowing berries, spore flowers, water lilies and moss.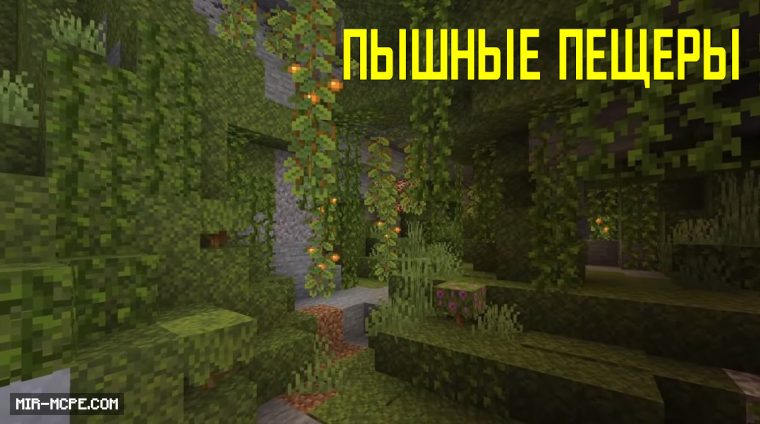 Gloomy depths. The biome is located in the most remote places in the world, near the bedrock. A rolling pin grows in it – a block that responds to movement and vibration. A new aggressive mob, Varden, also lives here.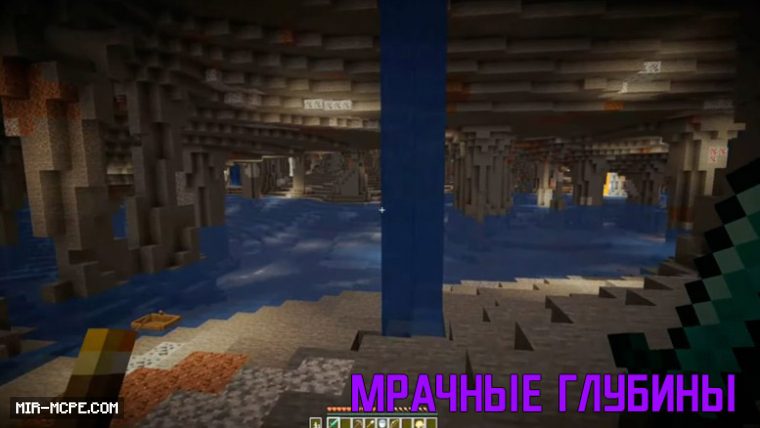 Stalactite caves. Here you will only see a lot of stalactite deposits that can fall on the player and cause instant damage.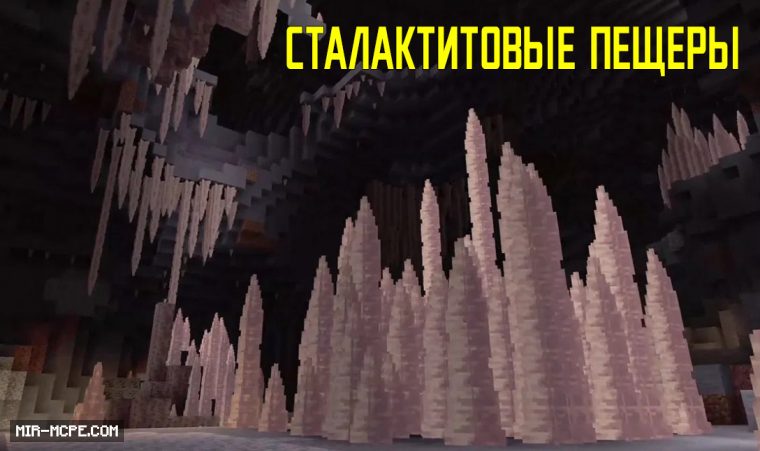 ---
Long-awaited mobs
Warden (Supervisor)… Thanks to him, the caves will quickly cease to seem like a quiet and peaceful place. It's easy to meet him – you just need to go underground. The mob has spent his whole life away from sunlight, so he sees very poorly, but has a keen hearing.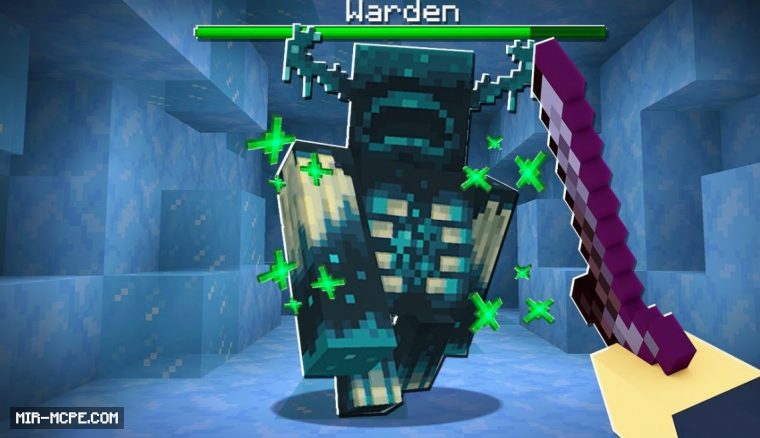 Damage:

30HP

in one hit.
Health:

80HP

and more.
Focuses on sounds.
Axolotl. These are fish of different colors that live in underground reservoirs. Quite harmless creatures, they can be tamed and made partners. They will swim for the player and protect him from guards, drowned, octopuses and any other fish.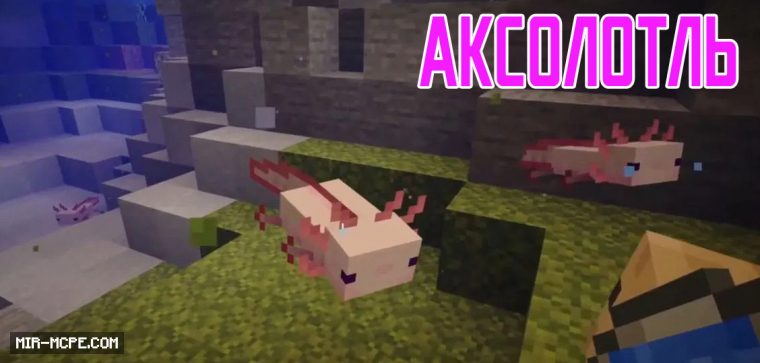 Glowing octopus. Hides at any depth of the seas and oceans. Possesses a bright glow and after death leaves a bag of ink (needed to highlight the plates).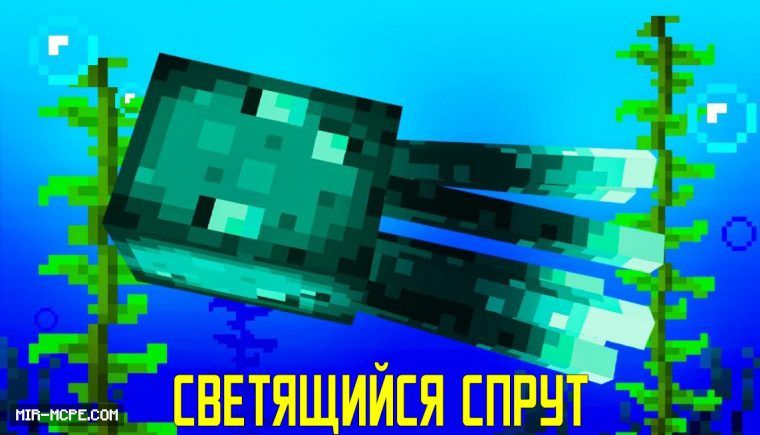 Mountain goat. He has no equal in mountaineering, he jumps high and easily overcomes obstacles. Can show aggression, trying to butt the player with horns and throw him off the mountain peaks.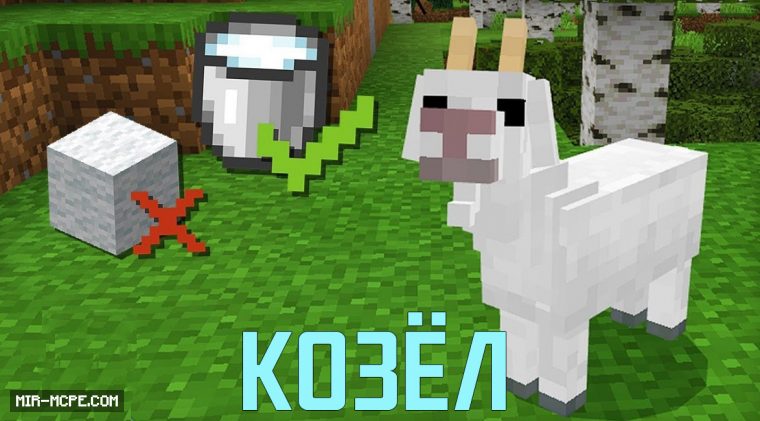 ---
Items
There were not so many new items, but all of them are designed to greatly simplify the player's life. They do not perform a decorative function, as was the case with other versions. Minecraft Pocket Edition, but are necessary to perform a number of tasks.
---
New Blocks
This aspect of the game has received the most updates. More than ten blocks have been added in Minecraft PE version 1.17.0… Here are just a few of them:
Loose snow. Stepping on it, you instantly fail and fall into a trap.
Stalactites. The block hangs from the ceiling and can fall on your head, dealing a lot of damage.
Stalagmites. They grow up from the ground, it is better not to fall on them from a height.
Amethysts. They are crystals that are found only in a new type of caves.
Copper block. Building resource, oxidizes over time.
---
Mountain renewal
Important fix in the game version 1.17… Now generated caves look more like separate worlds, rather than small passages. Each such location has its own ecosystem and unique creatures. From now on, descent into the cave is not just a foray for valuable resources. You will find yourself in a spacious room with high ceilings, where there are rivers, lakes and underground waterfalls.

Tempting, isn't it? That is why we recommend you as soon as possible download Minecraft 1.17 for Android absolutely free and try out the innovations in the game. Installation will not take long, and the emotions gained from exploring the underground worlds of "Caves & Cliffs" will exceed your expectations. Below you will find download links, where you can choose the one you want from two options: the first is works without a license, and for the second, you need a Google Play account with the purchased application.