Mod
Brazilian Prehistory
includes in Minecraft
dinosaurs that once lived in what is now Brazil
… The names of most species will be unknown even to fans of prehistoric animals, so the assembly will not only improve the gameplay, but also add knowledge for our visitors. In the future, the author plans to add more than 50 creatures. So far there are only 12 of them, but you can already build a small park with these animals.
Santanaraptor placid
Small Brazilian descendant of tyrannosaurs. It dwells on the plains and hunts small animals. Doesn't attack without provocation.
Health: 10 units
Attack: 5 units
Predator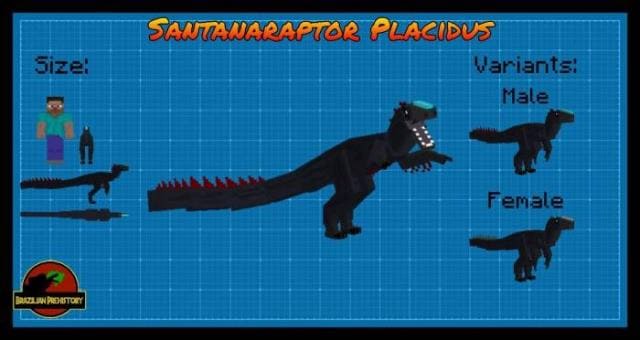 Ubiradjara jubatus
Small dinosaur with long feathers. Loves to eat small animals. Attacks only after provocation.
Health: 5 units
Attack: 1 unit
Predator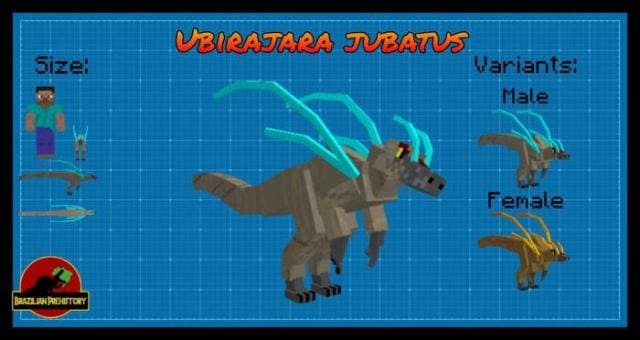 Asymmetric Miriskia
The feathered forest hunter is constantly looking for its prey. Hunting in a group. Neutral.
Health: 5 units
Attack: 1 unit
Predator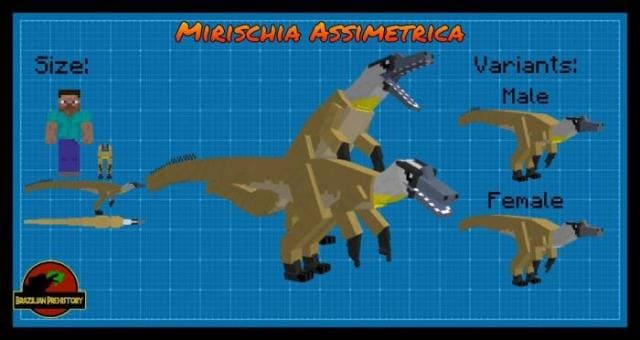 Amazonzavr maranhensis
A huge herbivorous dinosaur, a relative of the diplodocus. Travels alone or in small groups across the plains. Don't attack him.
Health: 100 units
Attack: 50 units
Herbivore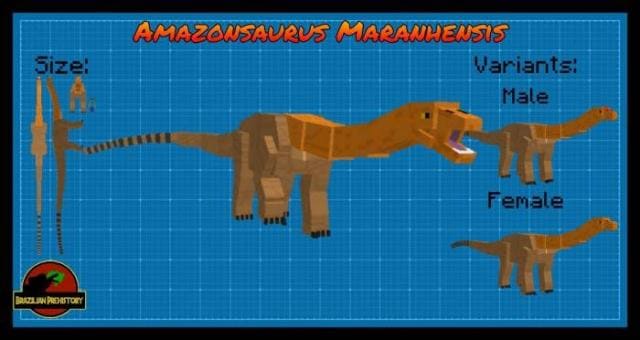 Brazilian provelosaurus
Inhabitant of arid biomes of barren deserts. They are constantly looking for water and leaves for food. Does not attack, but will respond on impact.
Health: 20 units
Attack: 8 units
Herbivore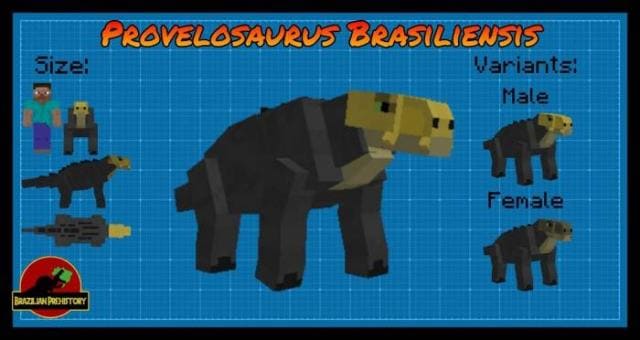 Pamphaphonius bikkai
An unusual animal that resembles both a reptile and a mammal. Dangerous and powerful hunter tracking the spentosaurus.
Health: 25 units
Attack: 15 units
Predator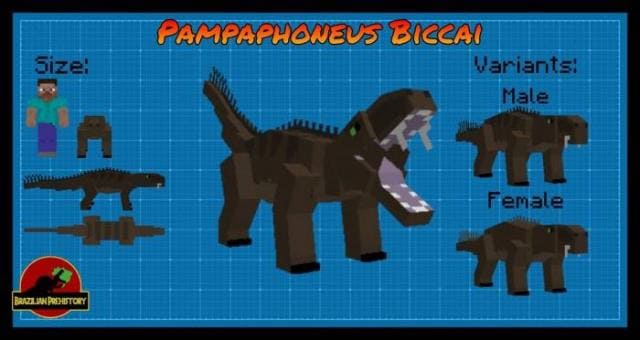 Smilodon Populator
Known to everyone as a saber-toothed tiger. One of the most popular representatives of the Cenozoic mammals. Loves to track victims in the savannah.
Health: 30 units
Attack: 15 units
Predator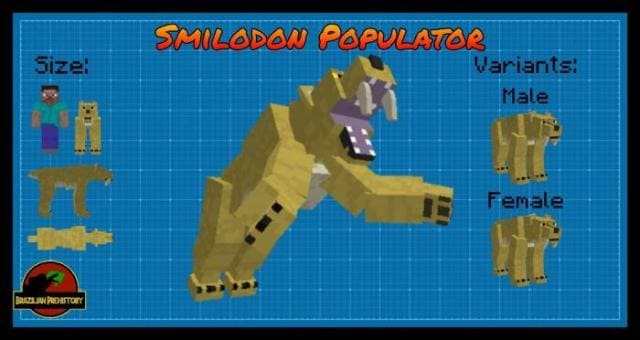 Paraphysornis brazilian
A real jungle nightmare: fast, agile and smart animal. Attacks in a group in the taiga or savannah. An extremely dangerous and powerful creature.
Health: 20 units
Attack: 10 units
Predator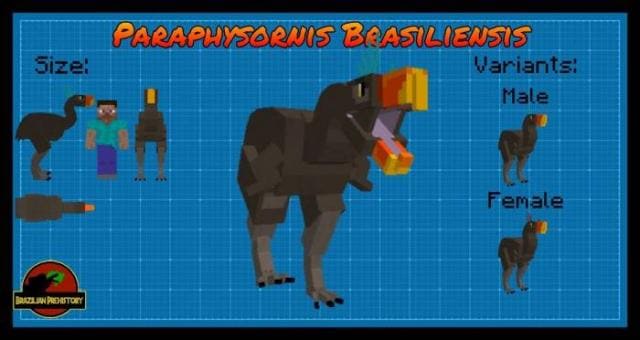 Thanos Simonatoi
Dominant predators in Africa and South America during the Cretaceous. An aggressive mob that hunts alone or in a group. And yes, it's named after a Marvel villain.
Health: 30 units
Attack: 20 units
Predator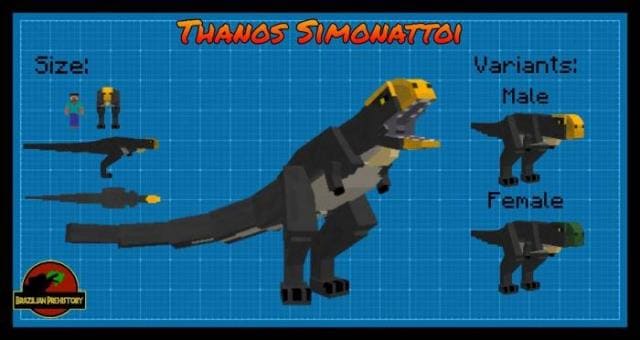 Dromeosauride
The Maranhao oasis has become a home for many animals. One of them was dromaeosaurids. Extremely fast, agile and aggressive animals. They attack in a flock.
Health: 25 units
Attack: 15 units
Predator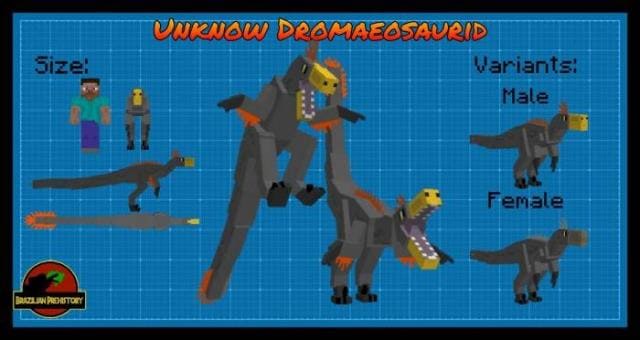 Raja Spectrovenator
The unusual name denotes his occupation – a ghost hunter. Stealthy camouflage allows the animal to hide in forests and appear out of nowhere. It hunts in groups and is very aggressive.
Health: 25 units
Attack: 15 units
Predator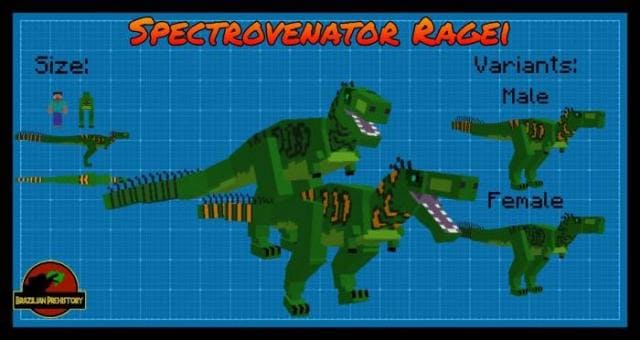 Oxalaia Coulombensis
The largest predator in Brazil. This is a spinosaurus that lives in swamps and eats local fish. Extremely aggressive. Able to destroy any dinosaur.
Health: 50 units
Attack: 20 units
Predator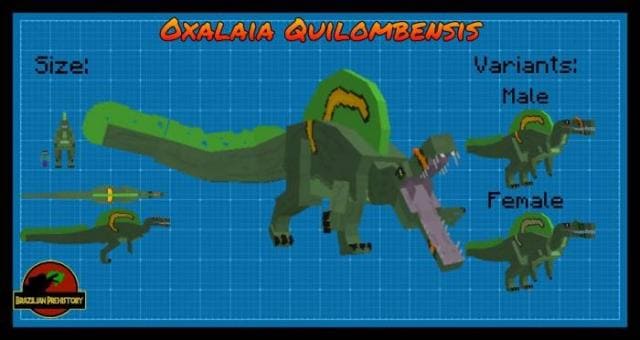 Weapon
Knife: /give @a prehistory:knife
A spear: /give @a prehistory:spear
Shocker: /give @a prehistory:shock_pod

Dinosaur eggs
Some animals lay eggs – collect them to create your own zoo.
Each animal can be tamed as a child with meat or grass. First you need to multiply mobs with food, and then tame the babies. Tamed animals will live in your enclosures.
All kinds of mobs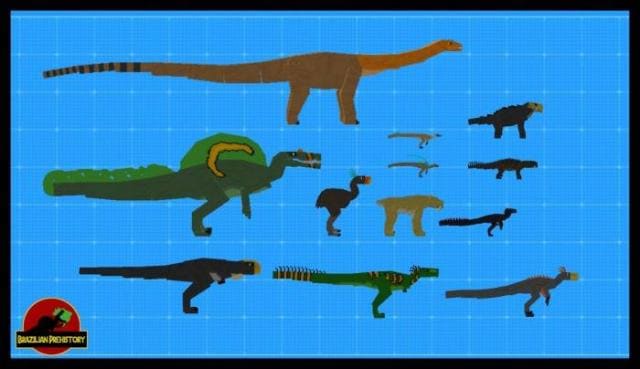 Preview
Category: Mods / Weapons / Mobs